Complete the flow chart below.
Write
ONE WORD
for each answer
Research methodology
STEP 01
Discussion with supermarket department manager to decide on the store's

for the website
STEP 02
Decision to investigate website use as a

way for customers to communicate problems
STEP 03
Design of questionnaire to identify customers' experiences and

to problems
STEP 04
Data collected from

with customers in four branches of the supermarket
STEP 05
Choose the correct letter,
A, B
or
C
Which pie chart shows the percentage of respondents who experienced a problem in the supermarket?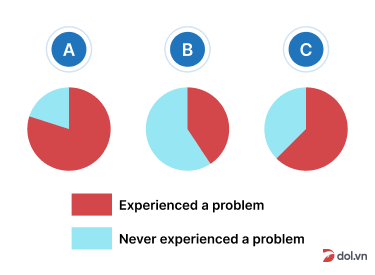 Which pie chart shows the reasons why customers failed to report the problem directly to supermarket staff?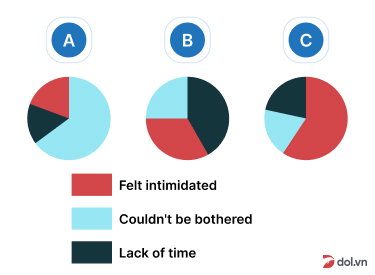 How might the student's website help the supermarket, according to the manager?
It would support the expansion of the company.
It would allow the identification of problem areas.
It would make the company appear more professional
The student says one problem is that some customers
do not have computer skills.
do not have their own computer.
do not have access to a computer.
Further observation of website use is necessary because of
the small size of the sample.
the need to evaluate the objectives.
the unrepresentative nature of the respondents.
One positive result of the website for the supermarket staff could be
greater support from management.
less chance of unfair complaints.
greater cooperation between staff.