Choose the correct letter,
A, B
or
C.
The land where the Sculpture Park is located was previously
completely covered by forest.
the site of private house
What is unusual about the Anglia Sculpture Park?
Artists have made sculptures especially for it.
Some of its sculptures were donated by the artists.
It only shows contemporary sculptures.
What is the theme of Joe Tremain's 'burnt sculptures?
the contrast between nature and urban life
the effect of man on the environment
The path by the Lower Lake
is rather wet in some places.
has recently been repaired
What does the speaker say about the Visitor Centre?
It is being enlarged at present.
It has received an international award.
It was designed by a Canadian architect.
Today, visitors can buy snacks and sandwiches
Label the map below Write the correct letter,
A-F.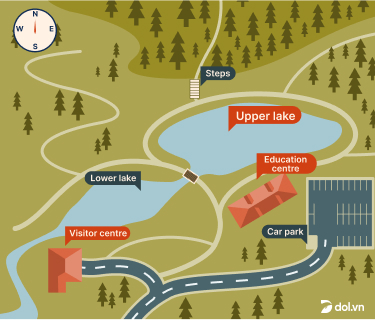 Giorgio Catalucci bird sculptures
8